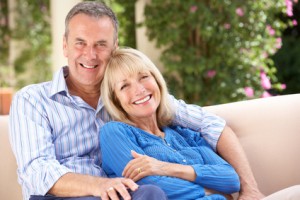 Some women have reservations about dating a divorced man. You might worry that the ex-wife can make things complicated or be bothered—jealous even—by the idea that he said "I do" to someone else. There must be something wrong with him because he couldn't make a marriage work. He'll come with too much emotional baggage.
Rest assured that dating a divorced man doesn't have to be much different than dating any other guy. Use the following 20 tips on dating a divorced man to take the guesswork and the apprehension out of the picture so that you can enjoy a lasting relationship with your divorcee.
Make sure he's really available…
The last thing you want to do is get hung up on a man who is still legally married or so fresh out of his divorce that he's still hurting. Find out if his divorce is official and for how long before you get in too deep.
Don't focus on his ex…
Your relationship is about you and him and not his starter wife! As long as you know what caused the end of their marriage and how long ago it happened; the rest doesn't matter. Refrain from bringing her up constantly or comparing your relationship to theirs.
Be discreet…
In the throes of new like, all you want to do is shout from the rooftops how happy you are, but you might need to refrain, at least for a while, when dating a divorced man. Having been married means that his life was intertwined with someone else's, including all of his family and friends. Bringing a new woman into the picture isn't always easy and may require some tact and discretion. Respect that.
Refrain from snooping…
It's easier said than done, but digging or Googling to find out what she looked like and anything else you can about the ex is a no-no and no good will come out of it.
Don't let his past hurt poison your relationship…
Divorce is hard and can be quite nasty for some and knowing this means wanting to be understanding. Being understanding about what he's been through is one thing, but don't allow it or him to poison what you have. Be understanding, but don't allow yourself to be walked on or make excuses for bad behavior.
Don't talk badly about his ex…
Even if she's the ex from Hell, it is not your place to say so. He loved her at one time and she was an important part of his life, so badmouthing her is like insulting him and his taste, which reflects badly on you. Besides, all of his past experiences, including his failed marriage, have made him who he is today.
Don't ask about their sex…
Seriously, as curious as you may be, the last thing you need to is to know any details about the sex they used to have.
Divorce doesn't make him damaged goods…
Some women can't help but wonder what's wrong with a guy who couldn't keep his marriage together. A divorce does not make him damaged goods.
Go slow…
This is especially important if you're his first relationship since the divorce. Take things slow since a divorced man is likely to be a little gun-shy at first.
Be easy to be around…
No man wants drama and it's possible he's already had his fair share. Enjoy each other's company and be easy to be with.
Refrain from marriage talk…
Unless you've been together a long time, then the topic of marriage shouldn't be pushed. All in due time.
Don't be needy…
Give him room to breathe and don't make your entire life about him. Have your own life and interests to keep him or you from feeling smothered.
Communicate…
A lot of marriages fail because of a breakdown in communication. Be easy to talk to and do your part to keep the lines of communication open.
Don't rush meeting his kids…
Yes, his children are an important part of his life, which you want to share and be a big part of too, but don't rush to meet his children. Let him move at a pace that he and the kids are comfortable with. And definitely don't meet them until you've established a commitment to each other.
Don't try to force your way into his family…
Just because another woman was a part of his family doesn't mean that you have to step into her place and mark your territory as the woman in his life. Let things happen naturally.
Expect some pushback from his family and kids…
They might take time to warm up to you and his kids especially may be wary of this woman who they see as trying to take their mom's place. Be patient and don't take it personally because it's really not about you.
Understand that his kids come first…
Whether it is last minute changes to your plans because one of the kids is sick or having to spend your weekend at little league instead of a romantic B&B; his children will come first. What kind of a man would he be if they didn't?
Keep things exciting…
No pressure, but if he's already experienced the rut that many married couples fall into, the last thing you want to do is get into one with him. Make time for passion!
Don't let him compare you to her…
Put your foot down if he continually brings her up and compares you and your relationship to his ex. If voicing your concern doesn't stop it, then he's probably not ready to move on.
Don't take him for granted.
Relationships fail when a person feels unappreciated and unloved and there's a good chance he's been there. Don't take him for granted. While you don't want to go overboard or smother him, you do want him to know that you care and appreciate him and what he does for you.
To sum it up…
You may have to be patient and put up with some extra baggage that you don't get with finding a good man who has never been married, but dating a divorced man also means being with someone who has proven that he can commit. That's definitely something worth being a little patient for!
Why Not Engage With Us While You're Here!
Please use our social media buttons below to share this article with the world wide web and leave a comment in our comments section telling us whether you agree, disagree or have something to offer that compliments the article. Thanks for your engagement.