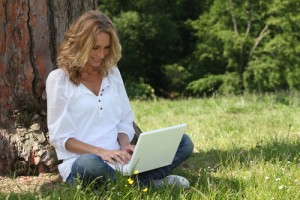 Skeptical about online dating? Think that there's got to be a better way to find someone special? Think again! Dating sites have made finding someone special easier than ever and we've compiled 30 reasons why dating sites are your best bet for finding love. Bet you'll be a believer before you reach the bottom of the list!
Online dating sites number in the hundreds and over half of all singles in North America today are using them to find love. The plethora of sites provide single women over 50 more opportunity than ever before without even leaving the comfort of their homes.
If you're new to the online dating scene and not sure how to get started or what the rules are for older women then make sure to sign up for our free eBook called "Online Dating For Women Over 50" at the bottom of this article to get first hand information on how to pick the right site, register, choose the right username, set up your profile, potential dangers and precautions, when to meet up with your potential mate and all the online dating lingo you need to know.
30 Reasons Dating Sites Are The Best Place To Find Love
1. Convenience. If nothing else, dating sites are incredibly convenient and allow even the busiest of us the opportunity to find potential dates regardless of our schedules.
2. More singles than any bar. Seriously, where else can you find thousands of singles in one place? There is no bar in the world big enough to hold as many potential mates as a dating site.
3. They're like virtual buffets. A dating site is like going to a buffet in that there's loads of selection so you're bound to find something that wets your palate!
4. No more awkward approaching of strangers. Yes, a first face-to-face meeting is bound to be a little nerve-wracking and awkward, but not nearly as bad as trying to approach/being approached by a random stranger.
5. 91 million people use dating apps. Yup, you read that right! A whopping 91 million people around the world use dating apps, which makes your chances of finding love this way pretty great.
6. Easier to shed your inhibitions. Dating sites allow you the comfort to connect with others from the comfort of your own home and separated by your screen, making it easier to open up.
7. Practice and master the art of dating. In the dating game, like in other things, practice makes perfect. Using dating sites allow you to chat with, flirt with, and meet others so you get better at it as you search for love.
8. Less pressure. You're not required to reveal your personal information until you're ready which means less pressure when connecting with someone. If there's no chemistry, it's easier to walk away.
9. You can tweak your search for Mr Right. Search options and different categories allow you to narrow your search and weed out guys who don't share your interests or fit your criteria. You can't do that in a bar!
10. Get to know someone before having to commit to a first date. First dates can be tricky as this is when you first really start to know more about the other person. With a dating site, you can ask all the first date questions before having to sit down with someone only to find you have nothing in common.
11. You get to make a better first impression every time. You create your profile and write your messages, which are your first impression to potential dates. You can take the time to choose the right pictures and say what you want about yourself for a good first impression every time.
12. 1 in 4 relationships begin online. If an actual relationship is what you're after, then your odds of finding one are pretty darn good!
13. They're great for your confidence. Even if you're no Heidi Klum; a profile picture pretty much ensures views and messages from other members, which is a real confidence booster!
14. They jumpstart your love life. Even if your love life has been pretty much non-existent since you became of age; dating sites instantly jump start your love life by connecting you with other singles that you could potentially date.
15. You can expand your social circle big time. Not every date is going to end with fireworks, but that doesn't make those dates a wash. Dating sites let you meet as many people as you want, meaning new experiences and new friends, along with the possibility of new love.
16. You don't have to set foot in another bar again, if you don't want to. If the only reason you hit up a bar or club is to try to meet someone, you can stop and use dating sites instead.
17. Specialty sites. Have very specific preferences or even fetishes? There's likely a specialty dating site for it! There are sites that cater to specific religions, types of relationships, and more.
18. You're less likely to do something you'll regret. If you're out having cocktails with friends, your chances of hooking up with the wrong person are considerably higher than when you're meeting people online.
19. You can broaden your horizons. Having standards and preferences is a must when looking for love, but having access to so many people on dating sites lets you broaden your dating horizons and try on different people for size, so to speak, without much risk.
20. You know it works. Poo-poo on the idea of dating sites all you want, but you know they work. Many couples, including friends of yours, met online.
21. You can put yourself out there without telling the world. Don't want to be spotted by family or coworkers at a known meet market? Create a private profile on a dating site and meet others discreetly from the privacy of home.
22. It's free—or at least cheaper than conventional dating. Why pay for drinks at bars or going dutch on first dates only to find you have nothing in common when you can use a dating site for free or a lot less than the cost of going out and weed out bad matches at home?
23. Access to men who want what you want. Not every single guy at a bar is looking for love, but most of those using dating sites are… unless you're on a casual encounter site, of course.
24. No more setups. You can stop relying on well-meaning friends and family to find you dates. Dating sites are way easier and far less embarrassing!
25. You get to connect with others who "get it". Being single when you don't want to be can be hard. Dating sites put you in touch with others that get it.
26. 25 percent of online dates lead to marriage. That's right: 25 percent of people who meet online end up getting married.
27. Shared interests. Having things in common ups your chances for relationship success and you can narrow your search to people with the same interests.
28. You gain confidence when you take charge of your dating life. Plain and simple.
29. The opportunity to learn about yourself. You'll find out what you really want and don't want in a partner when you connect with so many different people.
30. It's fun. And dating should always be fun!
To Sum It Up
Online dating sites are fast becoming the norm when it comes to finding the right mate. Things like going to the bar to find love are becoming obsolete and more successful relationships are being developed from an online dating site than ever before. Every year the numbers are increasing of older women going online to find companionship.
The fastest growing age demographic for getting online and looking for a relationship is women over 50. Women over fifty also are focusing on profile questions that show an honest representation from the man and mutual interests as opposed to good looks and sexual prowess.
There are dating sites geared towards seniors so you don't have to mingle with the younger generation in the quest to find your "Mr Right".
Our eBook below is an excellent source of information to help you learn all the nuances of online dating so check it out.
Why Not Engage With Us While You're Here!
Please use our social media buttons below to share this article with the world wide web and leave a comment in our comments section telling us whether you agree, disagree or have something to offer that compliments the article. Thanks for your engagement.